For Dyna FXDLS (2017). 1Pcs Air Cleaner Filter with Accessories (As Picture Shown).
Feature 2: The K & N air filters are easily replace the standard air filter. There are no changes to the system necessary. The standard setting of the carburetor does not need to be changed. By using K & N Air filters there is no performance loss, on the contrary, because the potential of the […]
Yamaha: 21-22 MT09 890cc; 21-22 MT09 SP 890cc; 21-22 TRACER 9 890cc; 21-22 TRACER 9 GT 890cc. This Filter Features DNA®'s Advanced Fcd (Full Contour Design).
2008 – 2013 Harley Electra Glide Classic (EFI) – FLHTC. 2008 – 2009 Harley Electra Glide Standard (EFI) – FLHT. 2008 – 2014 Harley Electra Glide Ultra Classic (EFI) – FLHTCU. 2010 – 2014 Harley Electra Glide Ultra Limited – FLHTK.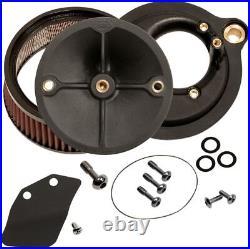 Built-in stinger cone directs air smoothly into the bore of the carburetor or EFI throttle body and reduces turbulence and increases flow. Kit includes backing plate, filter and hardware. This includes Republic Of Ireland.